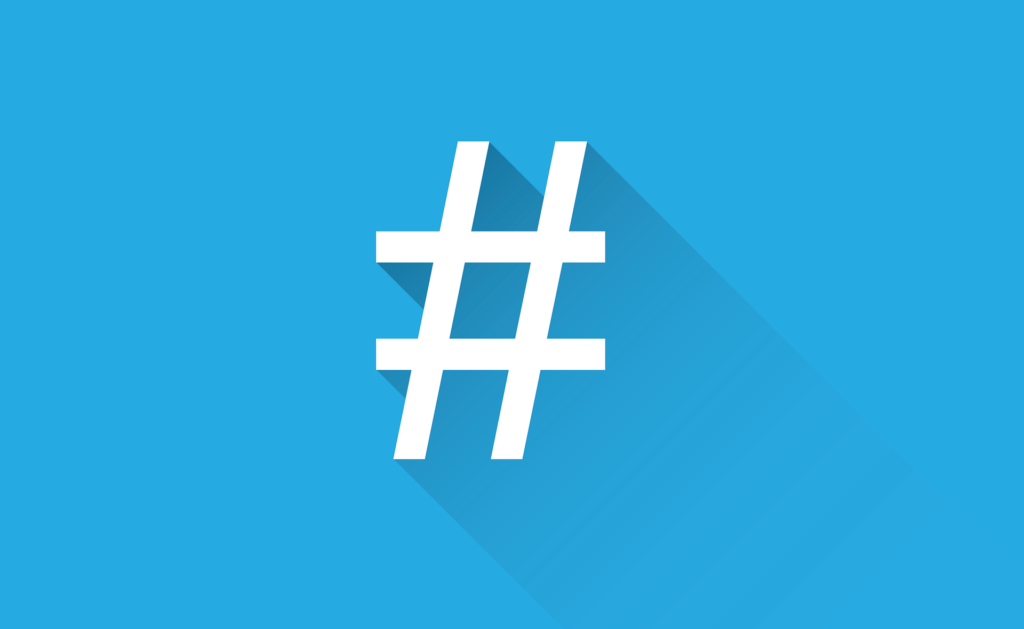 What is a hashtag?
I'm sure you've heard the term, but maybe weren't sure what it really was. A hashtag is a hyperlink that takes you to a search result of that tag. It's a way to find content directly, but mostly for people who have the same interests in that particular hashtag. It's basically a way to join the conversation. They are extremely popular and great way to find people that are interested in that particular topic. Think of yourself at a party and one table is talking about vacationing in Florida, while the other is talking about how invest in stocks. Depending on what table you're at, is the topic of conversation. So, if I use a picture related to a fohawk haircut for instance on Instagram, use hashtags related to that…like #fohawk or #fohawkhaircut
Hashtags can be used on many platforms. 1st off, let's be clear how many hashtags can be used for each platform, and what is the optimal best for your best results.
Facebook – Between 1-3
Instagram – (Between 6 -10 recommended) but you can use up to 30
Twitter – 1
Using hashtags on Facebook…
So, using hashtags on Facebook is going to be different from Instagram. People use multiple hashtags on Instagram, which can really help their search results on that topic. But too many hashtags on Facebook just isn't visually appealing. Facebook's platform is very different from Instagram, in the sense it's more about networking and connecting with friends. Instagram is more of visual platform of videos and pictures. You should think of a hashtag as an accent piece on Facebook. You would never flood one room in your house with a lot of accent pieces. Keeping it simple is easier on the eye. So how many hashtags should you use? I'd say anywhere between 1-3 is good enough. Don't use a hashtag that is not relevant to the topic. And know that when using multiple words in a hashtag, you can capitalize each word, so it's easier to read. So instead of #progolftips, you may write it #ProGolfTips. Anyone that clicks on that hashtag on Facebook, is going to be taken to that related topics based on that hashtag. They may find you based on a hashtag, which is a great way to generate free traffic for yourself. Be sure to focus on a unique hashtag, as that could be your signature hashtag no one is using, so every time you use it, it brings the viewer back to your content.
Quick Tip! Not a bad idea to use a popular hashtag in conjunction with your unique one. So if I put a picture of myself on a trip in Vegas, and I put a hashtag like #vegas there's a good chance that hashtag, being super popular is going to pop up, but now if I add a unique one with that like #EricsVegasTrip, I've created an opportunity to create one of my own. That means if someone finds me using the #vegas, they could possibly click on #EricsVegasTrip in the same posting, and now be redirected to multiple posts based on that unique hashtag. Be sure to see what other people are using for hashtags in relation to what you're using, and what's working for them. This is a great way to get a collection of new hashtags. Pay attention to what other people are using for hashtags on similar photos like yours. You may discover a hashtag you hadn't thought of using in the future.
Quick Tip! Don't use the same hashtags over and over again. This will affect your reach and make it really uninteresting for those looking at your videos or photos.
Instagram Posting Tip!! Entering the #hashtag in the search function, this will allow you to see the number of posts using that particular hashtag, along with similar hashtags and their volume. Hashtag Examples Here are some hashtag examples using the days of the week!
MONDAY 
#ManicMonday
#ManicureMonday
#MotivationMonday
TUESDAY
#TransformationTuesday
#TrendyTuesday
#TipTuesday
WEDNESDAY
#WellnessWednesday
#WisdomWednesday
#HumpDay
THURSDAY
#ThrowbackThursday or #TBT #ThankfulThursday
#ThursdayThoughts
FRIDAY
#FridayNight
#FridayFun
#FollowFriday or #FF
#FearlessFriday
#FeelGoodFriday
#FashionFriday
#FeatureFriday

SATURDAY
#SocialSaturday
#ShoutoutSaturday
#SaturdayStyle
#SaturdaySpecial
#SaturdaySale

SUNDAY
#SundayFunday
#SpotlightSunday
#WeekendVibes
#SundaySpecial
#SundaySale


POPULAR HASHTAGS RELATED TO THE BEAUTY INDUSTRY

#style
#beauty
#instabeauty
#beautytips
#beautiful
#stylish
#instamood
#photooftheday
#selfie
#selfienation #instaselfie #selfietime #shamelessselfie # bestoftheday
#nofilter
#followme
#igdaily
#instalike
#amazing

POPULAR HASHTAGS FOR HAIR
#hair
#hairstyles
#instahair
#hairstylist
#haircolor
Quick Tip about hashtags…
Be sure not to use spaces or punctuation.
Don't use hashtags not related to what you are talking about, it may hurt your search results in the end. It's best to use between 6-10 hashtags even though Instagram allows 30.
Twitter can be a useful platform, as you are limited to how much content you can write about. So, it's clear and to the point.  The idea of putting more than one hashtag can actually create a decline in engagement, so be conscious of this. 
Be sure to download Periscope, which is owned by Twitter. This is a live streaming app that can be used to stream all over the world. Once you stream your "live stream" you have the option of saving it and even sharing it on Twitter. This type of live is different from Facebook, because Facebook you have to be a friend to see it. And while you have followers on Periscope, anyone can tune it anywhere in the world.